Bookshelves are not just for storing books; they also serve as a fantastic opportunity to showcase your personality and style. The way you arrange your bookshelves can transform a simple storage unit into an eye-catching focal point that reflects your taste and interests. Whether you have a full wall of shelves or a small bookcase, we have 50 stylish ways to arrange your bookshelves and breathe new life into your living space.
Discover 50 stylish and creative ways to arrange your bookshelves! From color-coded arrangements to vertical and horizontal stacking, find unique ideas to transform your bookshelf into a stunning display. Explore themes, sizes, and unconventional shelving options to showcase your books and decor in a captivating and visually appealing manner.
Also read this to master your home decoration: Creative DIY Home Decor Ideas to Try Today
1. Color-Coded Arrangement
Organize your books by color to create a visually striking and vibrant display. Arrange books from light to dark hues for a beautiful gradient effect.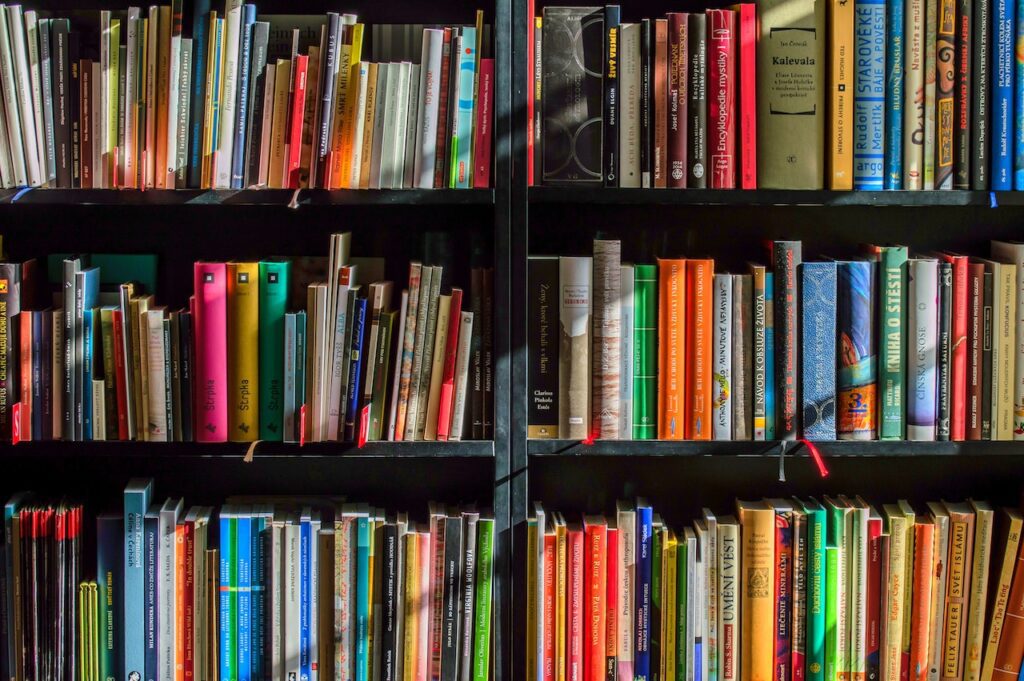 2. Minimalistic Approach
Embrace the less-is-more philosophy by displaying a select few books alongside curated decor pieces for an uncluttered and sophisticated look.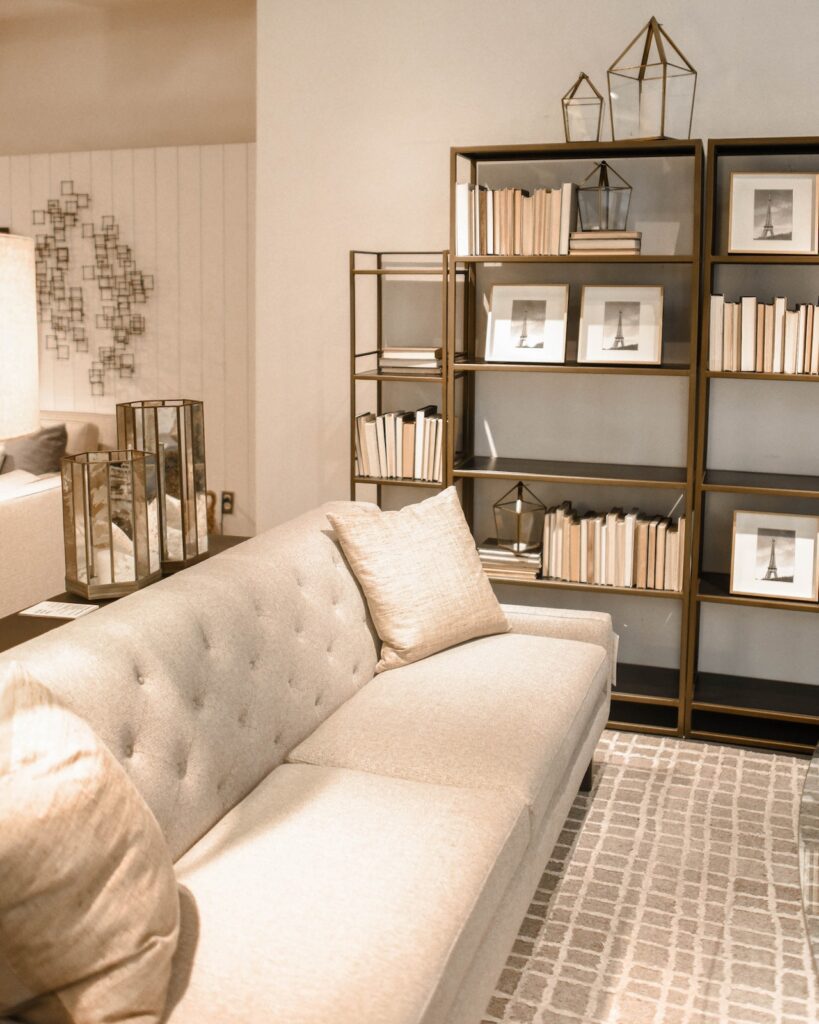 3. Vertical Stacking
Stack books vertically to maximize space and add an artistic touch. Alternate between stacks of two or three books for variation.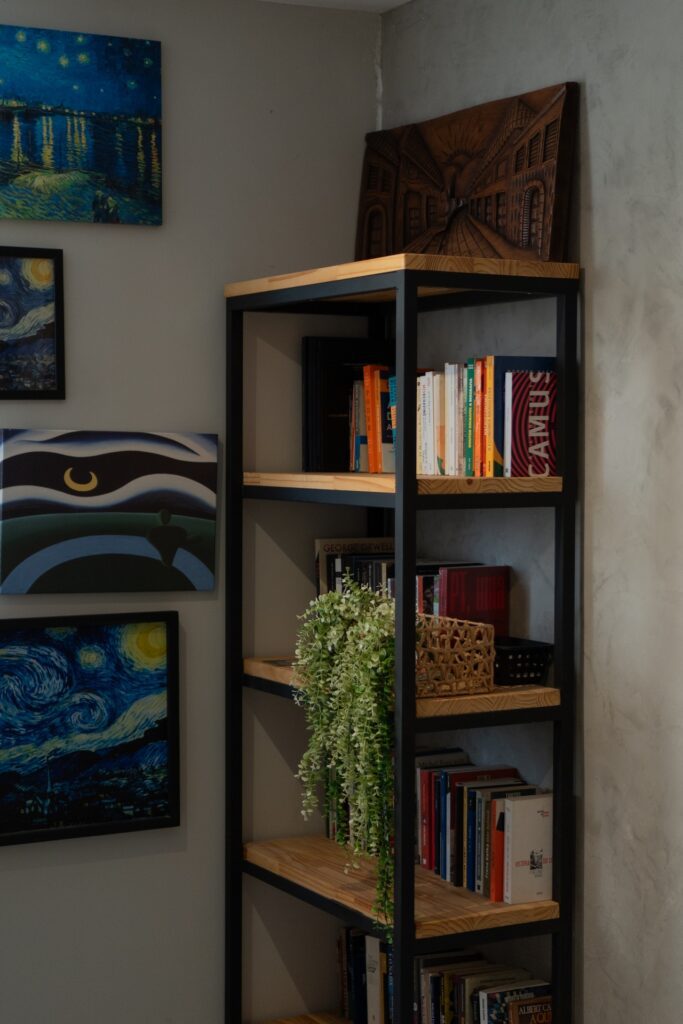 4. Horizontal Stacking
Lay books flat on the shelves and top them with decor items, framed photos, or small plants for a dynamic and eclectic arrangement.
5. Alphabetical Order
Classic and practical, arrange books in alphabetical order by the author's name for a neat and organized bookshelf.
6. Genre Grouping
Group books based on genres like fiction, non-fiction, mystery, or fantasy for easy browsing and a cohesive aesthetic.
7. Size Variation
Play with the height and width of books to create an engaging visual flow. Arrange taller books next to shorter ones for an artistic balance.
8. Eye-Catching Bookends
Use decorative bookends to keep your books upright and add a touch of style to your bookshelf.
9. Thematic Arrangement
Create mini displays with books, decor, and artifacts related to a specific theme, such as travel, nature, or art.
10. Symmetrical Arrangement
Achieve a harmonious look by mirroring the arrangement of books and decor items on each shelf.
11. Zig-Zag Stacking
Arrange books in a zig-zag pattern, alternating between vertical and horizontal placement, for an eye-catching design.
12. Off-Center Staging
Position books and decor items slightly off-center to add visual interest and break the monotony.
13. Pop of Color
Add colorful decor accents, like vases, sculptures, or bookends, to create a lively and attention-grabbing bookshelf display.
Discover wall art inspirations for your bookshelf: 50 Creative DIY Wall Art Ideas for Your Home
14. Personalized Showcase
Display your favorite books, family photos, and personal mementos to create a bookshelf that tells your unique story.
15. Shelfie Style
Mix and match books with personal items, such as framed quotes, souvenirs, and artwork, to create your very own "shelfie" display.
16. Floating Shelves
Install floating shelves and stagger them at different heights for a modern and sleek book display.
17. Art and Books Combo
Integrate framed artwork and prints with your book collection for an artistic and gallery-inspired bookshelf.
18. Diagonal Stacking
Arrange books diagonally for a playful and whimsical look that breaks the traditional linear arrangement.
19. Double Stacking
Stack books both vertically and horizontally on the same shelf to add dimension and visual appeal.
20. Mix of Hardcover and Paperback
Combine hardcover and paperback books for a diverse and interesting bookshelf arrangement.
21. Classic Library Style
Organize books by author and subject matter, using library-style bookplates for a sophisticated and timeless display.
22. Literary Quotes
Frame your favorite literary quotes and intersperse them among your books for a literary-themed bookshelf.
23. Seasonal Rotation
Rotate books and decor items seasonally to keep your bookshelf fresh and updated throughout the year.
24. Book Spine Color Block
Line books with colorful spines in a row, creating a vibrant color block effect.
25. Book Spiral
Create a spiral formation with books to add a whimsical and enchanting touch to your bookshelf.
26. Curated Shelfie
Design a curated shelfie with a mix of books, art, and decor items that reflect a particular mood or aesthetic.
27. Vintage Charm
Arrange old and weathered books with vintage decor pieces for a charming and nostalgic bookshelf display.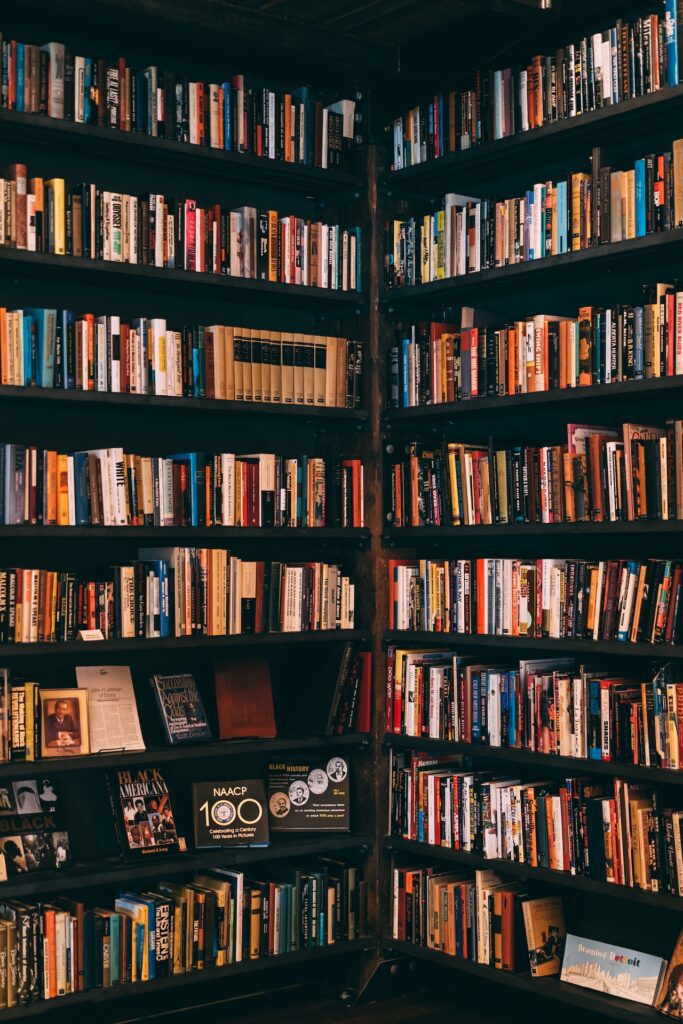 28. Staircase Bookshelf
Utilize a staircase-style bookshelf to create a unique and eye-catching arrangement.
29. Playful Pop Culture
Showcase your love for pop culture by arranging books related to your favorite movies, TV shows, or fandoms.
30. Book Towers
Stack books vertically to create towers of varying heights for a dramatic and sculptural bookshelf.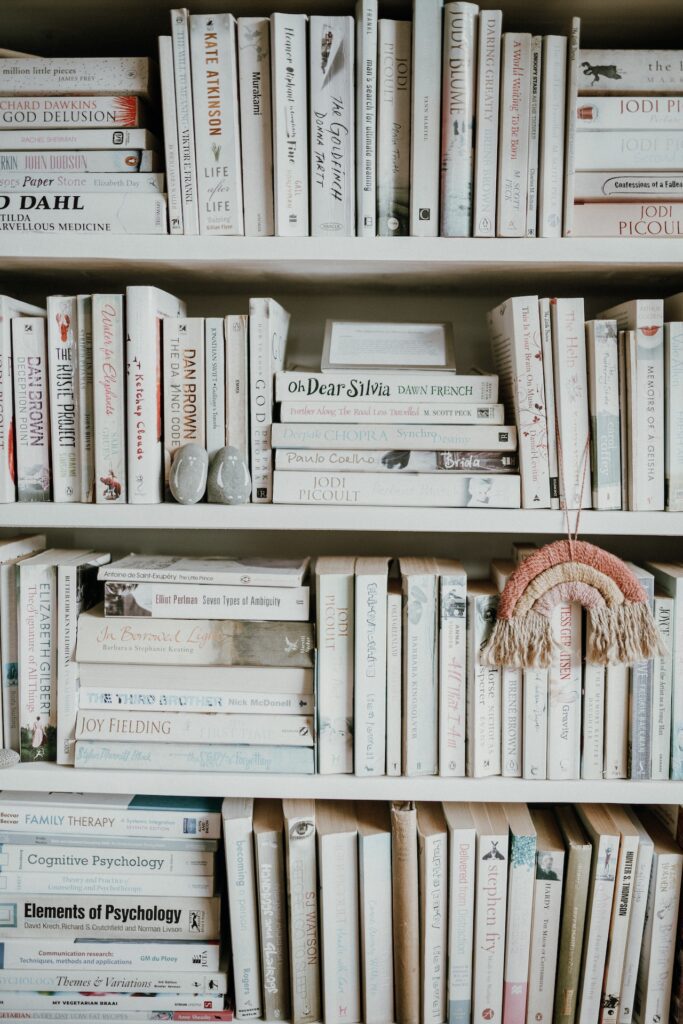 31. Bookshelf Gallery Wall
Install shelves in a gallery wall style, mixing books with framed art and photographs.
32. Nature-Inspired Display
Decorate your bookshelf with plants, shells, and natural elements for a refreshing and organic look.
33. Reading Nook Shelves
Create a cozy reading nook by arranging shelves around a seating area filled with plush cushions and throws.
34. Global Treasures
Display books and souvenirs collected from your travels around the world for a global-inspired bookshelf.
35. Geometric Arrangement
Arrange books and decor items in geometric patterns, like triangles or squares, for a modern and artistic bookshelf.
36. Unconventional Shelving
Use unconventional items like vintage suitcases, crates, or wooden boxes as bookshelves for a quirky and unique display.
37. Bookshelf Planters
Combine a bookshelf with planters to create a refreshing and green display in your living space.
38. Literary Classics Corner
Designate a section of your bookshelf exclusively for literary classics, giving them a special spotlight.
39. Bookshelf with a View
Position a bookshelf near a window to enjoy natural light and create a cozy reading corner.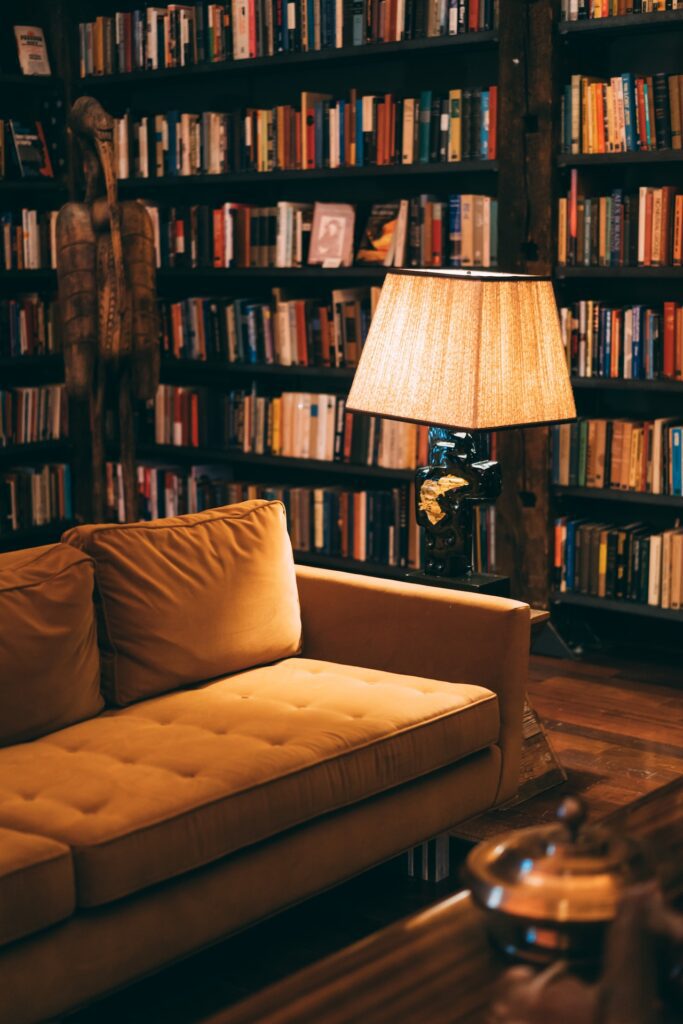 40. Repurposed Bookshelf
Repurpose an old ladder or a vintage piece of furniture as a bookshelf for a rustic and shabby-chic look.
41. Freestyle Stacking
Arrange books and decor items in a freestyle manner, letting your creativity dictate the layout.
42. Bookshelf Library Wall
Create a floor-to-ceiling bookshelf library wall for an impressive and awe-inspiring display.
43. Childhood Memories
Mix books from your childhood with new favorites to evoke nostalgia and sentimentality.
44. Bookshelf with Quotes
Incorporate bookshelf decals or vinyl lettering with inspiring quotes that resonate with your love for literature.
45. Bookshelf Color Blocking
Organize books in groups of colors, creating bold and visually striking sections on your bookshelf.
46. Under-the-Stairs Book Nook
Utilize the space under a staircase to build a cozy and enchanting book nook with built-in bookshelves.
47. Bookshelf Art Installation
Arrange books and decor items in an artistic and sculptural manner, turning your bookshelf into a stunning art installation.
48. Hidden Bookshelf
Install floating bookshelves in a corner or behind a door to create an illusion of floating books and a hidden library.
49. Bookshelf with Chalkboard Backing
Add a chalkboard backing to your bookshelf and doodle literary quotes or messages for a fun and interactive display.
50. Rotating Bookshelf
Invest in a rotating bookshelf that allows you to access books from all sides and adds a touch of uniqueness to your space.
---
Random book resources from the web:
Other Articles