Working from home has become more common than ever before. With the rise of remote work, it's important to have a well-organized home office that promotes productivity. A cluttered workspace can lead to distractions and decreased efficiency. In this blog post, we will explore 50 home office organization ideas that will help you create a functional and inspiring work environment.
Clear the Clutter
Declutter your desk by removing any unnecessary items.
Sort through piles of papers and file or shred them accordingly.
Invest in storage solutions such as bins, trays, and folders.
Utilize wall-mounted shelves and hooks to maximize vertical space.
Keep items off your desk by using organizers and containers.
Create a Functional Layout
Position your desk near a natural light source to reduce eye strain.
Arrange your office furniture in a way that promotes easy movement.
Access essential items easily by organizing them within reach.
Consider investing in a comfortable chair and ergonomic accessories.
Use cable management solutions to keep cords and wires organized.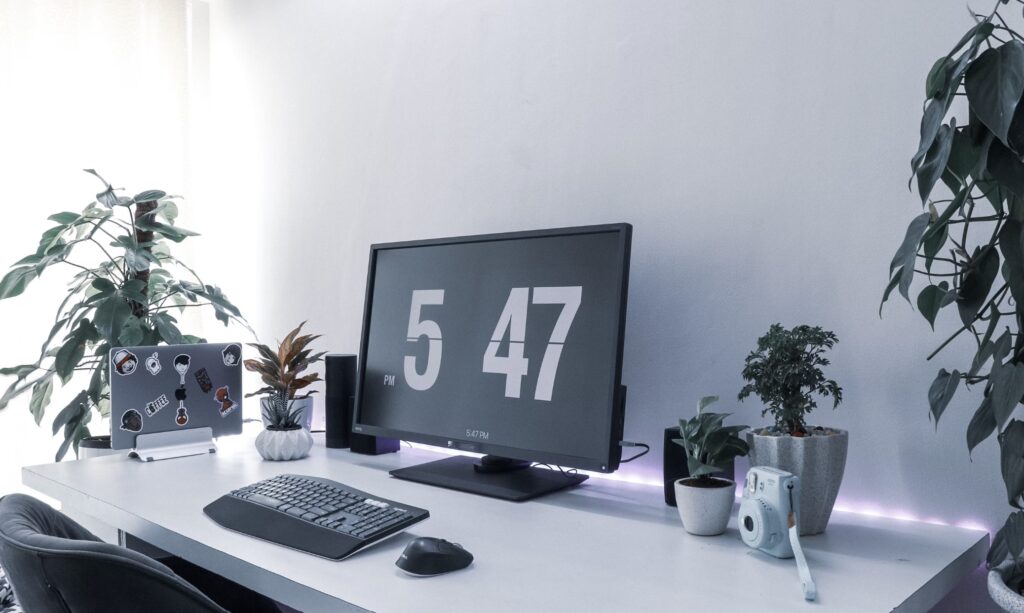 Establish Zones and Systems
Designate specific areas for different tasks like reading and writing.
Create a dedicated storage area for office supplies and equipment.
Use color-coded folders or labeled binders to organize paperwork.
Keep small items like pens, paper clips, and sticky notes in organizers.
Implement a digital filing system to reduce paper clutter.
Use drawer dividers to keep office supplies neatly separated.
Set up a whiteboard or bulletin board for important reminders.
Keep a calendar or planner to stay organized and manage deadlines.
Create a mail sorting system to keep track of incoming and outgoing mail.
Use a filing cabinet or file box to store important documents.
Invest in a label maker to easily identify items and organize shelves.
Use a desk organizer for frequently used items like pens and notepads.
Keep a trash can and recycling bin nearby for easy disposal.
Utilize a corkboard to pin important notes and to-do lists.
Store reference books and manuals on a bookshelf within reach.
Use a desk lamp or task lighting to improve visibility and reduce eye strain.
Organize computer cables using cable clips or cable sleeves.
Keep a supply of sticky notes and notepads for quick jotting down of ideas.
Use a cordless phone or headset to avoid tangled phone cords.
Install a white noise machine or play soft background music to improve focus.
Home Office Organization Ideas
Use a document scanner to digitize and organize important documents.
Keep a stock of office essentials like printer ink and paper.
Organize your digital files into folders and subfolders.
Use desktop organizers to keep your computer desktop clutter-free.
Implement a password manager to securely store login information.
Set up a charging station for your electronic devices.
Use a cable tray or cable box to hide and manage cables.
Keep a supply of cleaning wipes and air fresheners for a clean workspace.
Organize your stationery in a desk drawer or caddy.
Use a desk calendar or digital calendar to plan and schedule tasks.
Display motivational quotes or artwork to inspire creativity.
Keep a water bottle and healthy snacks nearby for energy throughout the day.
Use a standing desk or adjustable desk to promote movement.
Create a comfortable seating area for breaks and relaxation.
Use a desk fan or space heater to maintain a comfortable temperature.
Keep a bulletin board or whiteboard for brainstorming and ideas.
Use a cable organizer to keep charging cables untangled.
Create a designated area for video conferencing meetings.
Store office supplies in labeled containers for easy access.
Take regular breaks to stretch and refresh your mind.
Conclusion
An organized home office is crucial for maintaining focus and increasing productivity. By decluttering your space, creating a functional layout, and establishing zones and systems, you can transform your work environment into a well-organized oasis. Experiment with different organization ideas and find what works best for you. With a tidy and efficient home office, you'll be able to tackle your work tasks with ease and efficiency.
Related post:
Other Articles