Creating a cozy and inviting living space is absolutely essential for any home. It not only provides comfort but also adds a sense of warmth and personality to your living environment. Whether you're a fan of minimalist designs, which focus on simplicity and clean lines, or prefer a more eclectic style, which combines various elements and textures, there are countless home décor ideas that can help you achieve the cozy atmosphere you desire. From selecting the right color palette to choosing the perfect furniture and accessories, every detail counts when it comes to creating a welcoming and inviting space. In this comprehensive post, we will explore 50 different home décor ideas that are sure to inspire you and transform your living space into a warm and inviting sanctuary that you'll never want to leave.
1. Warm color palette
Choose warm and earthy tones like beige, brown, or terracotta for your walls and furniture to create a cozy ambiance.
2. Soft lighting
Opt for soft and warm lighting fixtures instead of harsh overhead lights to create a relaxing atmosphere.
3. Layered rugs
Place multiple rugs of different textures and patterns on your floor to add depth and coziness to your living space.
4. Candles
Light scented candles to create a soothing and aromatic environment that instantly makes your space feel cozy.
5. Knitted throws
Drape knitted throws over your couch or armchairs to add warmth and texture to your living room.
6. Floor cushions
Add oversized floor cushions to your seating area to create a casual and comfortable space for relaxation.
7. Natural elements
Incorporate natural elements like plants, stones, or wooden accents to bring a touch of nature indoors.
8. Bookshelf display
Arrange your books and decorative items on a bookshelf to create an inviting and cozy focal point in your living space.
9. Fairy lights
Hang fairy lights around your windows or wrap them around your furniture to create a magical and cozy atmosphere.
10. Wall art
Hang artwork or photographs that evoke warmth and happiness to personalize your living space.
11. Cozy seating
Invest in plush and comfortable seating options like oversized armchairs or a sectional sofa.
12. Fuzzy pillows
Add soft and fuzzy pillows to your couch or bed to create a cozy and inviting seating area.
13. Fireplace
If you have a fireplace, make it the centerpiece of your living space by arranging seating around it.
14. Cozy nooks
Create cozy reading or relaxation nooks by placing a comfortable chair and a small side table near a window.
15. Wall shelves
Install wall shelves to display your favorite books, plants, or decorative items.
16. Layered curtains
Hang sheer curtains behind your regular curtains to add texture and create a cozy and romantic feel.
17. Rustic accents
Incorporate rustic accents like distressed wooden furniture or vintage-inspired accessories for a cozy farmhouse look.
18. Soft textiles
Use soft textiles like velvet, faux fur, or cashmere for your pillows, blankets, and curtains.
19. Gallery wall for Home Decor Idea
Create a gallery wall with a collection of your favorite artwork or photographs to add personality and warmth to your living space.
20. Cozy reading corner
Set up a reading corner with a comfortable chair, a floor lamp, and a bookshelf filled with your favorite books.
21. Scented diffusers
Place scented diffusers around your living space to fill the air with a pleasant and cozy fragrance.
22. Warm-toned artwork
Choose artwork with warm tones and soothing imagery to create a calming and inviting atmosphere.
23. Soft area rugs
Place soft and plush area rugs in your living space to add warmth and comfort underfoot.
24. Cozy window seat
Install a window seat with cushions and pillows near a large window to create a cozy spot for relaxation and enjoying the view.
25. Wooden accents
Incorporate wooden furniture or decorative accents to bring a natural and cozy feel to your living space.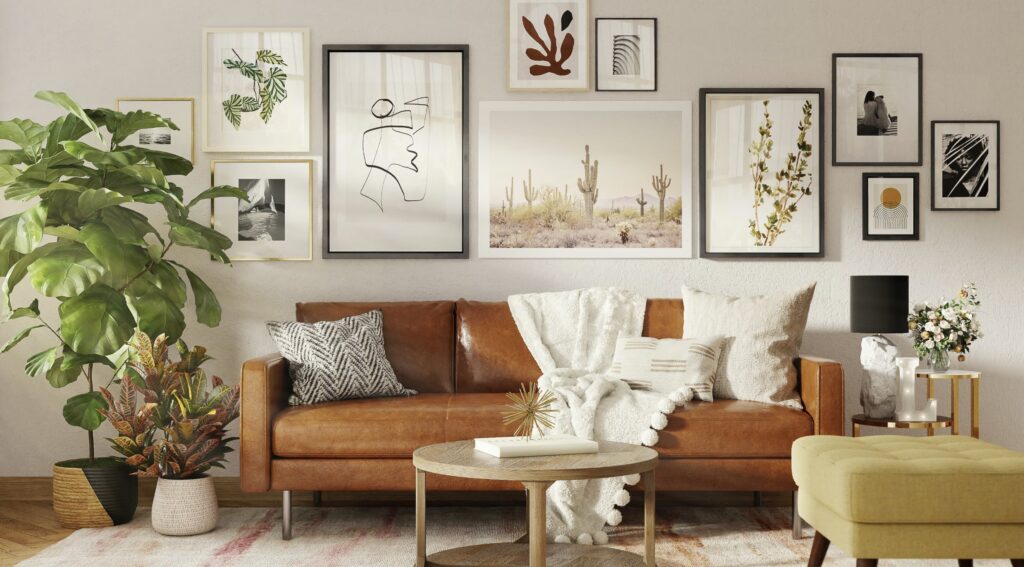 26. Layered bedding
Use layers of blankets, comforters, and pillows on your bed to create a cozy and inviting sleeping area.
27. Bean bag chairs
Add bean bag chairs to your living room or bedroom for a fun and comfortable seating option.
28. Woven baskets
Use woven baskets for storage and organization while adding a rustic and cozy touch to your living space.
29. Faux fireplace
If you don't have a real fireplace, consider installing a faux fireplace to create a focal point and add warmth to your living space.
30. Cozy window treatments
Choose window treatments like curtains or blinds in soft and warm colors to enhance the cozy atmosphere of your living space.
31. Plush rugs
Place plush rugs in your bedroom or living room to create a soft and cozy surface for your feet.
32. Cozy dining area
Set up a cozy dining area with a warm-toned tablecloth, candles, and comfortable chairs for a welcoming atmosphere during meals.
33. Vintage elements for Home Decor Idea
Incorporate vintage elements like antique furniture or retro accessories to add a cozy and nostalgic charm to your living space.
34. Comfortable ottomans
Add comfortable ottomans to your living room for extra seating and a cozy place to rest your feet.
35. Soft wall colors for Home Decor Ideas
Paint your walls in soft and soothing colors like pastels or light neutrals to create a calm and cozy environment.
36. Cozy kitchen nook
Create a cozy kitchen nook with a small table, comfortable chairs, and soft lighting for a warm and inviting dining experience.
37. Layered window treatments
Combine different types of window treatments like curtains, blinds, and valances for a layered and cozy look.
38. Cozy workspace
Design a cozy workspace with a comfortable chair, soft lighting, and personal touches to make it a warm and inviting place to work.
39. Furry rugs
Place furry rugs in your living room or bedroom to add texture and a cozy feel to your space.
40. Cozy outdoor seating
Create a cozy outdoor seating area with comfortable chairs, soft cushions, and warm blankets for enjoying the fresh air.
41. Cozy wall colors
Choose warm and inviting wall colors like deep red, burnt orange, or golden yellow to create a cozy and welcoming atmosphere.
42. Layered window coverings
Combine different types of window coverings like blinds, curtains, and sheer panels to create a cozy and versatile look.
43. Cozy workspace
Design a dedicated workspace with a comfortable desk, ergonomic chair, and personalized decorations to make it a cozy and productive environment.
44. Cozy dining table centerpiece
Create a cozy dining table centerpiece with candles, seasonal foliage, and decorative accents to make meals feel warm and inviting.
45. Cozy bathroom accessories
Add soft and fluffy towels, scented candles, and cozy bath rugs to your bathroom for a spa-like and cozy atmosphere.
46. Cozy wall hangings
Hang tapestries or woven wall hangings with warm colors and intricate designs to add texture and coziness to your walls.
47. Cozy window seating
Install a window seat with plush cushions and throw pillows near a window to create a cozy nook for relaxation and enjoying the view.
48. Cozy kitchenware for Home Decor Idea
Use warm-toned and textured kitchenware like ceramic mugs, wooden cutting boards, and copper utensils to create a cozy and inviting kitchen.
49. Cozy bedroom lighting
Choose soft and warm lighting options like bedside lamps or string lights to create a cozy and relaxing atmosphere in your bedroom.
50. Cozy wall treatments
Add wall treatments like textured wallpaper, wood paneling, or brick accents to create a cozy and rustic feel in your living space.
Conclusion
By incorporating these 50 home décor ideas into your living space, you can create a cozy and inviting atmosphere that you and your loved ones will enjoy. Experiment with different elements and find what works best for your personal style and preferences. Remember, the key to a cozy living space is to make it feel warm, comfortable, and personalized to your taste.
Related post:
Other Articles