Sustainable fashion and ethical shopping are becoming increasingly important as people are becoming more aware of the impact of the fashion industry on the environment and workers' rights. By making conscious choices and adopting sustainable practices, we can contribute to a more sustainable and ethical fashion industry. In this blog post, we will share 50 ideas for sustainable fashion and ethical shopping that you can incorporate into your lifestyle.
1. Choose Quality Over Quantity
Invest in high-quality clothing that will last longer and withstand wear and tear.
2. Embrace Second-Hand Shopping
Explore thrift stores, consignment shops, and online platforms for pre-loved fashion items.
3. Rent Clothing
Instead of buying clothes for special occasions, consider renting them to reduce waste.
4. Support Sustainable Fashion Brands
Research and support brands that prioritize sustainable and ethical practices in their production processes.
5. Opt for Organic Fabrics
Choose clothing made from organic materials that are free from harmful chemicals.
6. Repurpose and Upcycle
Get creative and transform old clothing items into something new and unique.
7. Avoid Fast Fashion
Say no to fast fashion brands that prioritize cheap production and quick turnover.
8. Choose Natural Dyes
Look for clothing dyed with natural, plant-based dyes instead of synthetic and toxic ones.
9. Shop Locally
Support local artisans and designers who create sustainable and ethical fashion pieces.
10. Mend and Repair
Extend the life of your clothing by fixing small damages instead of throwing them away.
11. Support Fair Trade Fashion
Choose fashion items that are made under fair working conditions and ensure workers receive fair wages.
12. Reduce Packaging Waste
Look for brands that use minimal and eco-friendly packaging materials.
13. Support Sustainable Accessories
Opt for jewelry and accessories made from recycled or upcycled materials.
14. Educate Yourself
Stay informed about the fashion industry's impact on the environment and workers' rights.
15. Host Clothing Swaps
Organize clothing swap events with friends and family to exchange and refresh your wardrobe sustainably.
16. Avoid Trendy Pieces
Opt for timeless fashion pieces that won't go out of style quickly.
17. Wash Clothing Responsibly
Use eco-friendly laundry detergents and wash your clothes at lower temperatures to save energy.
18. Support Slow Fashion
Choose brands that focus on producing high-quality, durable clothing that is meant to last.
19. Donate Unwanted Clothing
Instead of throwing away unwanted clothing, donate them to local charities or clothing recycling programs.
20. Buy from Transparent Brands
Look for brands that are transparent about their production processes and supply chain.
21. Participate in Fashion Revolution Week
Join the global movement calling for a fairer and more sustainable fashion industry during Fashion Revolution Week.
22. Avoid Microfiber Pollution
Wash synthetic clothing in special bags to capture microfibers and reduce water pollution.
23. Support Sustainable Footwear
Choose shoes made from sustainable materials, such as recycled plastics or organic cotton.
24. Reduce Water Consumption
Wash your clothes less frequently and choose fabrics that require less water during production.
25. Support Artisans and Craftsmanship
Choose handmade clothing and accessories crafted by skilled artisans.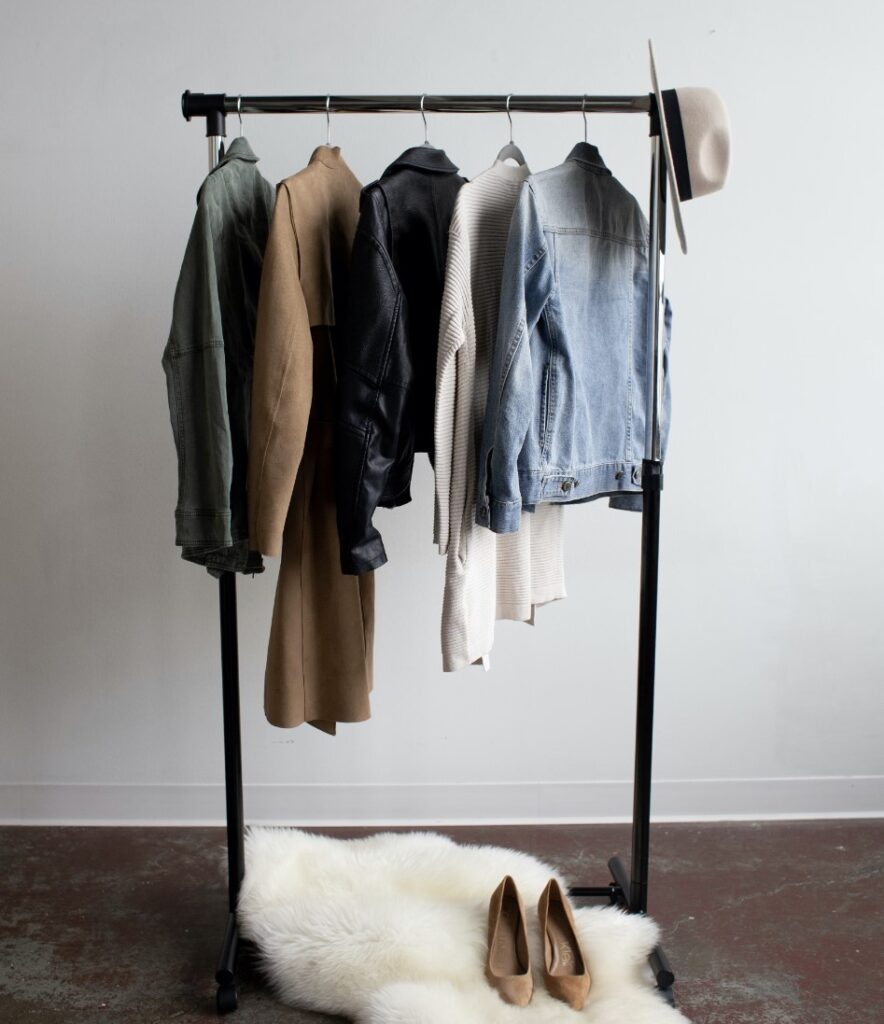 26. Opt for Minimalist Wardrobe
Build a capsule wardrobe with versatile pieces that can be mixed and matched.
27. Choose Vintage Accessories
Explore vintage stores for unique and sustainable accessories.
28. Support Ethical Jewelry Brands
Look for jewelry brands that ensure responsible sourcing of materials and ethical production practices.
29. Learn to Sew
Repair and alter your clothing by learning basic sewing skills.
30. Support Sustainable Swimwear Brands
Choose swimwear brands that use recycled materials and focus on reducing waste.
31. Follow Sustainable Fashion Influencers
Get inspiration from influencers who promote sustainable fashion and ethical shopping.
32. Avoid Harmful Chemicals
Choose clothing made with non-toxic dyes and avoid fabrics treated with hazardous chemicals.
33. Support Gender-Neutral Fashion
Choose brands that embrace gender-neutral fashion and promote inclusivity.
34. Buy Less, Choose Well
Adopt a minimalist approach to shopping and only buy what you truly need and love.
35. Support Sustainable Underwear Brands
Choose underwear made from organic and sustainable materials.
36. Use Eco-Friendly Fabrics
Look for clothing made from eco-friendly materials like bamboo, hemp, or Tencel.
37. Support Social Enterprises
Purchase from social enterprises that prioritize social and environmental impact over profit.
38. Avoid Animal Cruelty
Choose cruelty-free fashion items that are free from animal products.
39. Choose Energy-Efficient Brands
Look for fashion brands that prioritize renewable energy and energy-efficient practices.
40. Educate Others
Spread awareness about sustainable fashion and ethical shopping practices among your friends and family.
41. Support Sustainable Activewear Brands
Choose activewear brands that use recycled materials and promote sustainable manufacturing.
42. Avoid Impulse Buying
Take time to consider your purchases and avoid impulsive shopping.
43. Choose Sustainable Outerwear
Look for outerwear made from eco-friendly and sustainable materials.
44. Support Sustainable Lingerie Brands
Choose lingerie brands that prioritize sustainable materials and fair labor practices.
45. Support Fashion Libraries
Explore fashion libraries where you can borrow clothing for a period instead of buying.
46. Choose Low-Impact Dyes
Look for clothing colored with low-impact dyes that are less harmful to the environment.
47. Support Sustainable Children's Clothing Brands
Choose sustainable brands for children's clothing to instill eco-consciousness from a young age.
48. Follow Sustainable Fashion Blogs
Stay updated with the latest sustainable fashion trends and tips through reputable blogs.
49. Opt for Pre-Ordering
Support brands that offer pre-order options to reduce overproduction and waste.
50. Embrace Minimalism
Adopt a minimalist lifestyle where you prioritize quality over quantity and reduce unnecessary consumption.
Conclusion
Incorporating sustainable fashion and ethical shopping practices into our lives is crucial for the well-being of our planet and the people involved in the fashion industry. By following these 50 ideas, we can make a positive impact and contribute to a more sustainable and ethical future.
Other Articles