In today's fast-paced world, it's crucial to make time for regular exercise to stay fit and active. With a wide variety of workouts to choose from, you can find something that suits your preferences and fitness goals. In this blog post, we have compiled a list of 50 workouts that will help you stay in shape and improve your overall well-being. Whether you are a beginner or an experienced fitness enthusiast, there is something for everyone on this list.
Cardio Workouts to Keep You Fit
Running: Running is a simple yet effective way to improve cardiovascular fitness and burn calories. Lace up your shoes and hit the pavement for a refreshing run.
Cycling: Hop on your bike and enjoy the outdoors while getting a great cardiovascular workout. Cycling is low-impact and suitable for all fitness levels.
Swimming: Dive into the pool for a full-body workout that is gentle on the joints. Swimming improves endurance, strength, and flexibility.
Jumping rope: Jumping rope is a fun and challenging cardio exercise that improves coordination and burns calories. All you need is a skipping rope and some space.
High-intensity interval training (HIIT): HIIT involves short bursts of intense exercise followed by periods of rest or lower intensity. It is a time-efficient way to burn fat and improve cardiovascular fitness.
Zumba
Kickboxing
Aerobics
Stair climbing
Rowing
Strength Training Workouts to Keep You Fit
Weightlifting: Incorporating weightlifting into your fitness routine helps build muscle, increase strength, and improve bone density. Start with lighter weights and gradually increase as you progress.
Bodyweight exercises: Bodyweight exercises like push-ups, squats, and lunges are effective for building strength and can be done anywhere, without the need for equipment.
Resistance band workouts: Resistance bands offer a portable and versatile way to add resistance to your workouts. They target specific muscle groups and help improve strength and flexibility.
Push-ups: Push-ups are a classic exercise that targets the chest, shoulders, and triceps. They can be modified to suit different fitness levels.
Squats: Squats are a compound exercise that works multiple muscle groups, including the glutes, quads, and hamstrings. They help build lower body strength.
Lunges
Deadlifts
Bench press
Plank
Kettlebell workouts
Flexibility and Mobility Workouts
Pilates: Pilates focuses on core strength, flexibility, and body awareness. It helps improve posture, balance, and overall muscle tone.
Yoga: Yoga combines physical postures, breathing exercises, and meditation to improve flexibility, strength, and relaxation. It is beneficial for both the body and mind.
Stretching exercises: Regular stretching improves flexibility, reduces muscle tension, and enhances athletic performance. Incorporate stretching into your warm-up and cool-down routines.
Tai Chi: Tai Chi is a low-impact exercise that combines gentle movements and deep breathing. It promotes relaxation, balance, and mental clarity.
Ballet: Ballet workouts improve strength, flexibility, and posture. They incorporate graceful movements that target the entire body.
Foam rolling
Dance classes
Gymnastics
Hatha yoga
Dynamic stretching
Core Workouts to Keep You Fit
Sit-ups: Sit-ups target the abdominal muscles and help build core strength. They can be modified to suit different fitness levels.
Russian twists: Russian twists engage the core muscles, including the obliques. They are effective for building rotational strength and stability.
Bicycle crunches: Bicycle crunches work the rectus abdominis and obliques. They are a great exercise for strengthening the core and toning the abs.
Plank variations: Planks are excellent for building core strength and stability. Experiment with different plank variations, such as side planks and plank jacks.
Mountain climbers: Mountain climbers are a dynamic exercise that targets the core, shoulders, and legs. They also provide a cardiovascular challenge.
V-ups are a core exercise that targets the abs. You lie on your back with legs and arms extended. Then, you lift your upper body and legs off the ground, forming a "V" shape. This exercise strengthens your core and improves stability and balance.
Flutter kicks
Leg raises
Medicine ball twists
Woodchoppers
Balance and Stability Workouts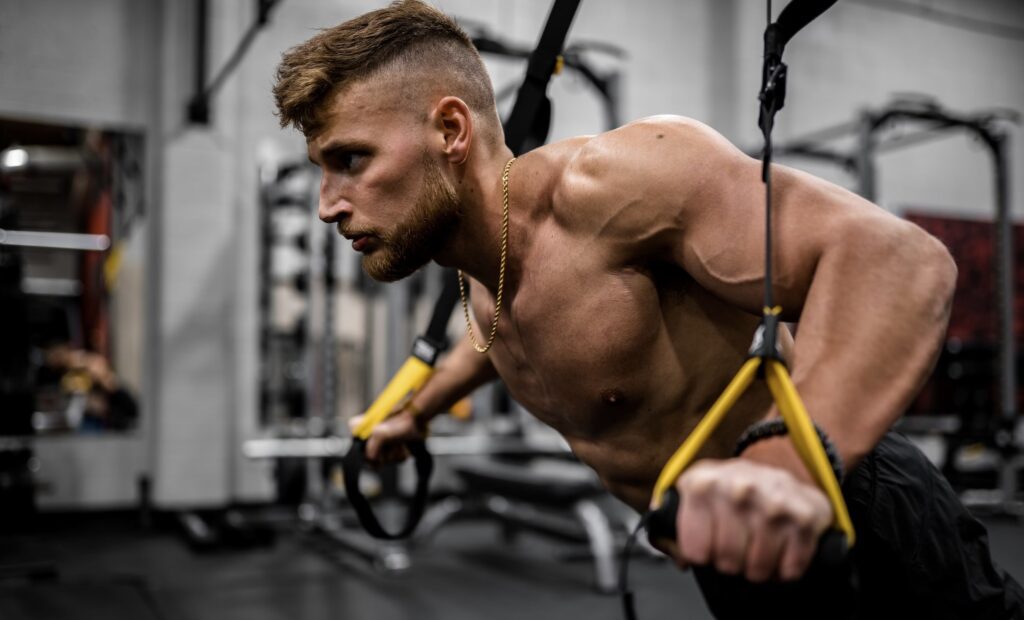 TRX suspension training Tis a versatile exercise using bodyweight resistance and a suspension trainer. It engages multiple muscle groups, improving strength, stability, and flexibility. With a wide range of exercises, it targets various areas of the body. Suitable for all fitness levels, TRX training efficiently builds muscle, burns fat, improves performance, and promotes an active lifestyle.
Yoga balance poses: Yoga balance poses, such as tree pose and warrior III, improve balance, coordination, and concentration.
Bosu ball exercises: Bosu balls are a versatile tool for balance and stability training. Incorporate exercises like squats and lunges on the Bosu ball to challenge your balance.
Wobble board exercises: Wobble boards help improve balance, proprioception, and ankle stability. Stand on a wobble board and perform exercises like squats or single-leg stands.
Single-leg deadlifts: Single-leg deadlifts target the glutes, hamstrings, and core, while also challenging your balance and stability.
Stability ball workouts: Stability balls engage the core muscles and improve balance and stability. Try exercises like stability ball crunches and stability ball planks.
Pilates ball exercises
Slacklining
BOSU ball planks
Balance beam exercises
Conclusion
Regular exercise is essential for maintaining a healthy lifestyle. By incorporating these 50 workouts into your fitness routine, you can keep yourself fit, active, and motivated. Remember to start at your own pace and gradually increase the intensity and duration of your workouts. Stay consistent, listen to your body, and enjoy the process of staying fit and active. So, get ready to sweat it out and keep yourself in great shape!
Other Articles