Are you tired of giving the same old gifts for special occasions and celebrations? Do you want to surprise your loved ones with something truly unique and memorable? Look no further! In this blog post, we have compiled a list of 50+ unique gift ideas that are sure to impress and delight. Whether it's a birthday, anniversary, graduation, or any other special event, these gifts are bound to make the occasion unforgettable.
Personalized Photo Album
Customized photo book with memories and captions
Polaroid camera with film and accessories
Digital photo frame with a slideshow of favorite pictures
Photo collage made with special moments and quotes
Scrapbook filled with cherished memories
Adventure Experience
Skydiving or indoor skydiving experience
Scuba diving lessons or a diving trip
Zip-lining adventure through a forest or over a canyon
Surfing lessons with a professional instructor
Rock climbing experience at an indoor or outdoor climbing wall
Customized Jewelry
Engraved necklace with a meaningful message or name
Personalized birthstone bracelet or ring
Customized charm bracelet with special symbols and initials
Hand-stamped keychain with a heartfelt message
Monogrammed cufflinks or tie clip for a stylish touch
Unique Gifts for Artwork
Custom-made portrait or painting of a loved one
Handcrafted sculpture or pottery piece
Framed artwork from a local artist
Personalized cartoon or caricature of the recipient
Original graffiti or street art for an urban vibe
Gourmet Food and Drink
Exotic spice set from around the world
Personalized wine or whiskey bottle with a custom label
Subscription to a gourmet chocolate or cheese club
Cooking class or workshop with a renowned chef
Customized gift basket filled with the recipient's favorite snacks and treats
Tech Gadgets
Virtual reality headset for immersive gaming or experiences
Smart home devices for a connected and automated lifestyle
Portable Bluetooth speaker for music on the go
Drone with a camera for aerial photography and videography
Fitness tracker or smartwatch for health and wellness monitoring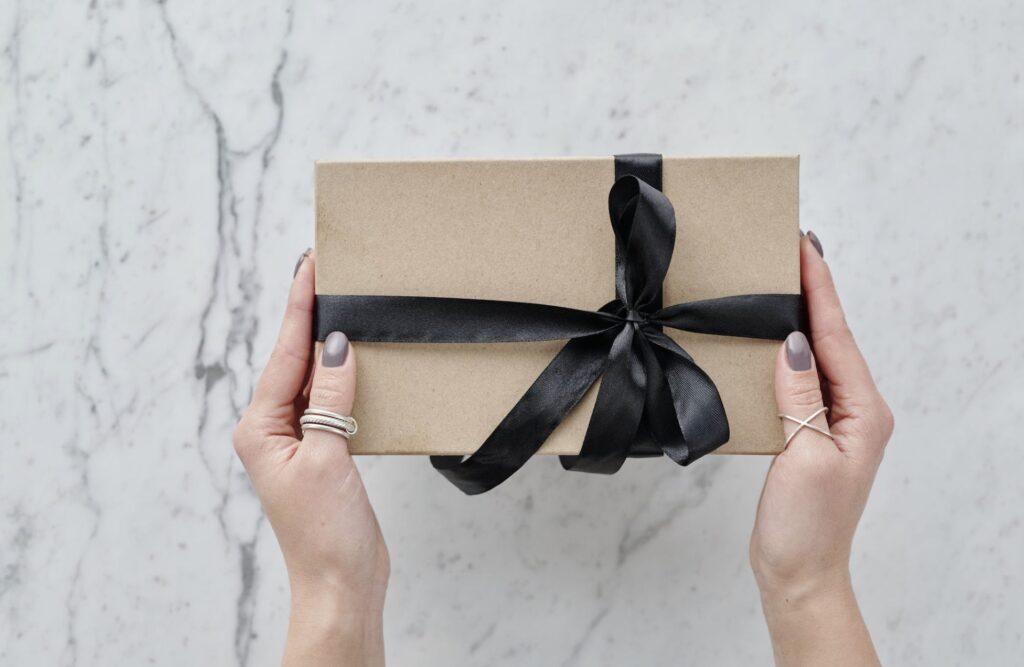 Books and Literature
First edition or signed copy of a favorite book
Personalized journal or diary with the recipient's name or initials
Subscription to a book of the month club for a regular dose of literature
Custom-made bookmark with a meaningful quote or message
Literary-themed gift set with books, mugs, and other accessories
Wellness and Self-Care
Spa day or wellness retreat for relaxation and rejuvenation
Aromatherapy diffuser with essential oils for a calming atmosphere
Personalized yoga mat or meditation cushion
Massage chair or foot spa for ultimate comfort and relaxation
Subscription to a mindfulness or meditation app for daily self-care
Travel and Adventure
Weekend getaway to a cozy cabin or luxurious hotel
Hot air balloon ride for a breathtaking aerial view
Cultural tour or trip to a bucket-list destination
Outdoor camping gear for the nature lover
Personalized travel journal or scratch-off map for documenting adventures
Unique Gifts For Home Décor
Custom-made furniture piece or home accessory
Personalized doormat with a witty or welcoming message
Wall art or tapestry with a meaningful quote or design
Handcrafted candle or aromatherapy set for a cozy ambiance
Indoor or outdoor hammock for ultimate relaxation
Gift Ideas for Special Occasions:
Custom Star Map: Commemorate a special date with a star map featuring the night sky from that evening.
Personalized Jewelry: Craft a unique piece of jewelry with the recipient's name, initials, or a meaningful date.
Artistic Photo Book: Turn cherished memories into a beautifully designed photo book.
Handwritten Letters: Express your feelings with a heartfelt, handwritten letter or a series of notes.
A Day of Adventure: Gift an experience like a hot air balloon ride, helicopter tour, or a spa day.
Name a Star: Symbolically name a star in the sky after your loved one.
Customized Illustration: Create a custom illustration of a place, pet, or cherished memory.
Message in a Bottle: Pen a message, seal it in a bottle, and toss it into the sea of life.
Personalized Recipe Book: Compile family recipes or your favorite dishes into a unique cookbook.
Time Capsule: Assemble mementos, letters, and keepsakes to be opened in the future.
Unique Gifts Ideas for Celebrations:
Luxe Scented Candles: Aromatic candles in elegant packaging make for a luxurious gift.
Custom-Made Perfume: Design a personalized fragrance tailored to their preferences.
Virtual Cooking Class: Book a cooking class with a professional chef from around the world.
Curated Tea Set: Offer an assortment of premium teas and exquisite teaware.
Artisanal Chocolate Set: Satisfy their sweet tooth with a selection of handmade chocolates.
Bespoke Leather Goods: Gift finely crafted leather items, such as wallets or bags.
Exquisite Crystal: Elegant crystal glassware or sculptures add a touch of sophistication.
Personalized Mixology Kit: Create a cocktail kit with their favorite spirits and unique mixers.
Hand-Painted Silk Scarf: A one-of-a-kind accessory for style enthusiasts.
Interactive Puzzle Art: Send a custom puzzle featuring a favorite photo.
Conclusion
Finding the perfect gift for a special occasion can be a daunting task, but with these 50+ unique gift ideas, you are bound to find something that will make your loved ones feel truly special. From personalized photo albums to adventure experiences, customized jewelry to unique home décor, and so much more, these gifts are sure to create lasting memories. So, the next time you're searching for a gift, think outside the box and give something truly unique and memorable.
Other Articles